PALOVUE Wireless Earbuds Bluetooth 5.2 Headphones, Noise Cancelling and Waterproof Ear Buds with Earhooks Compatible for Sport Workout Running Comfortable Earhook Original Designed for Sport. PALOVUE earphones are designed with soft, flexible, and secure-fit ear hooks. PALOVUE earbuds stay comfortably firm in place when running, hiking, jogging, and other outdoor activities. It also provides the authentic sound.
PRODUCT OVERVIEW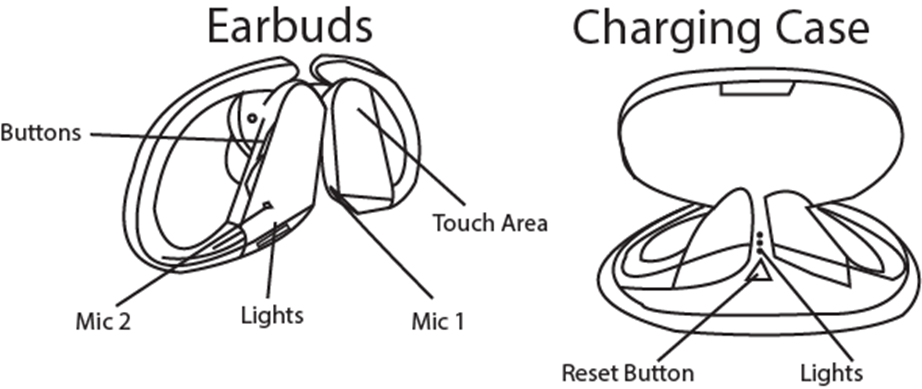 Pairing Process
Here you get pairing information on how to pair them to your device.
Place both earbuds into the charging case and close it for about 3 seconds.
Then open the charging case, and long-press the reset button inside the case for about 8-12 seconds, after that, you need to release your hand as soon as all 4 white lights above the reset button are on.
After the above two steps, you will see the light blinking in the right touch area which means the earbuds are ready for pairing.
Open the Bluetooth function on your device.
Now, you have to activate the Bluetooth function on your device and then select "Palovue Wireless Earbuds" from the list that shows on your device screen.
Wearing Process
To achieve the most comfortable fit and sound for your Earbuds, test out the different sizes and best-fitting sizes.
Steps: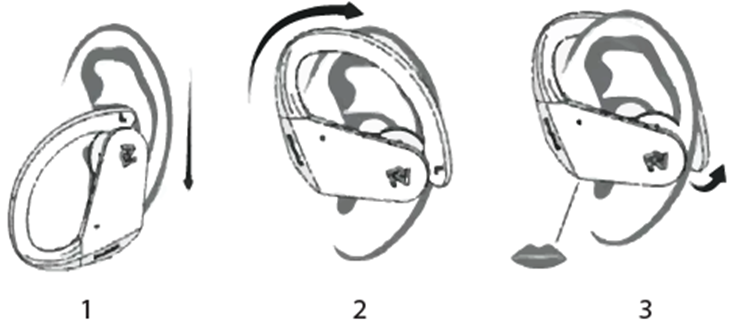 Set the earbuds into each ear, like picture 1.
Whirl the earbuds to be comfortable, like picture 2.
Please put on the ear hooks and adjust them to fit your ears, make sure that the mic aligns the mouth like in picture 3.
CHARGING
The earbuds will start charging once they are placed into the charging case and the lid closed.
The charging case LED will show the charging position:
1 Charging: When the earbuds charging starts red light on the case.
2 Fully charged: When the earbuds charge fully green light will be on the case.
To shortly press the button on the charging case, it will indicate the power of the case.
TOUCH CONTROL
Tap once Plays/Pause, Answer/Hang up
Double Click Voice assistance
Press for 1 second Next track
Press for 3 seconds Previous track, Reject
Button "+" Volume +
Button "_" Volume –
Factory Reset:
Place both TWS earbuds in the charging case and close the lid.
Open the charging case, press & hold the case button until the four case LED lights start blinking (about 8-12 seconds).
Now the SportSound TWS has been reset and is ready to pair.
Conclusion
Hopefully, in this article you have got your solution you just have to follow the above-mentioned instructions to do the process of connecting Palovue TWD 1802 Wireless Earbuds to the Device. So, just follow to get rid of the problem and enjoy.