Mobile gaming has come a long way in the last few years, with some of the best games on Apple Arcade becoming more and more powerful with devices capable of handling heavy games. Most mobile phones nowadays have enough power to handle a beautiful-looking game while delivering a complete competitive experience.
But when there's good, there is some bad as well. In this case, it is the fact that most mobile games nowadays don't focus on delivering an enjoyable gaming experience. Instead, they are exploitive money-making machines for the developers who try to get you to spend as much money as you can in the game.
Is Apple Arcade Worth It?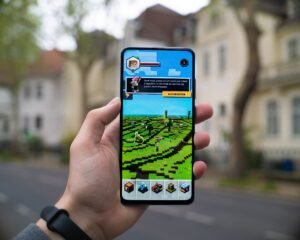 Apple Arcade is a service that provides you access to a growing library of over 200 games for $5 a month. You can play these games on the iPhone, iPad, Mac, and Apple TV. Games on Apple Arcade have amazing mechanics that provide a high-quality user experience without comprising on quality.
So without further ado, here are the 8 Best Games on Apple Arcade you can play today!
[powerkit_toc title="Table of Contents" depth="2″ min_count="4″ min_characters="200″ btn_hide="false" default_state="expanded"]
Best Games on Apple Arcade
1) Assemble With Care
Assemble With Care takes the simple concept of screwing and unscrewing and puts it into a game. You are given everyday objects to open up and see what's inside them and explore how things are assembled. Somehow, this game finds a way to make the tedious process of managing screws and cables into an oddly satisfying one. When it comes to complete satsifaction, it is simple one of the best games on Apple Arcade!
While playing this game, you'll experience some gentle puzzle-solving that satisfies your boredom to the core.
2) Card of Darkness
From the Adventure Time creator, Pendleton Ward, Card of Darkness delivers amazing aesthetics much like the show itself, worthy of being on any best games on Apple Arcade list. The game is made up of elegant strategy systems, and number-based card game mechanics that will make sure that you enjoy your time playing this game.
3) Cat Quest II
Cat Quest 2 is an amazing adventure game with cats that claims to be "Skyrim with cats", and delivers on that claim. It is a charming little action RPG game with simple mechanics that anyone can pick up easily and start playing. Its design makes the game more enjoyable and cute as playing this RPG with cats is something you will certainly find interesting. When you think 'best games on Apple Arcade', this is exactly what you're looking for.
4) Crossy Road Castle
This new platformer takes the original idea of Frogger, and adds small little animals who are incredibly cute to play as. The characters have to tackle a tower full of tiny little levels. The levels aren't long like the ones you see in games like Super Mario. These are small bits of stages that take 15 to 20 seconds to complete. This is Apple Aracde's showcase game, ranking highly on their own best games on Apple Arcade chart.
The coop in this game is amazing. With the players having the ability to move around the entire level without anyone getting in each other's way. Although the game runs endlessly, players get a rest stage after every ten stages where they can exchange 100 coins for an extra-life heart. The players have three lives and once they lose all of them, the game is over.
5) Disney Melee Mania
Get ready to see your favorite Disney characters fight it out in Disney Melee Mania, which takes iconic characters like Mickey Mouse, Buzz Lightyear, and Princess Elsa and puts them in for some multiplayer action. In this game, two teams of three players use their characters' unique skills to come out victorious over the opponent team.
6) Grindstone
Grindstone is a really fun block-matching puzzle game where the blocks look dangerously interesting. But the most satisfying thing that happens is when your hero cuts himself a path through the blocks in a fashion which can only be defined as pure carnage!
7) Aspalt 8: Airborne+
Asphalt 8: Airborne+ is possibly one of the best games on Apple Arcade for racing out there. It has amazing graphics and the cars run so smoothly that you forget you are playing on a mobile. This game defies the laws of physics by giving you the option to boost your car in the air through ramps, and come crashing down mercilessly on your opponents.
Asphalt 8 is a racing game done right. So if you want to experience high-speed racing that puts you on the edge of your seat, then give this game a try!
8) Lego Builder's Journey
LEGO Builder's Jouney is a stunning game in the LEGO franchise but it's not what you might think it is. Instead of being a sandbox game, this is a puzzle game. If you want to experience wa beautiful-looking game that bends your mind, then give this game a try.
Conclusion paragraph: So, there you have it – 8 of the best games on Apple Arcade to check out. We hope you enjoy them as much as we do! What's your favorite game so far? Do you know of any other great games that should be added to the list? Let us know in the comments below. And don't forget to keep an eye out for new releases – we'll be sure to update this post as they come out. And don't forget to check out some of the other great content on our website, like our guide to playing PUBG on Mobile. Thanks for reading and happy gaming!